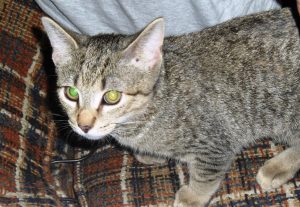 "What's that?" asked Mike, staring down at a splat on the dining room floor.
I peered at the splat. 
"Looks to me like one of the cats threw up," I answered, "after eating grass. See the bright green pieces?"
Mike had already seen enough.  He really didn't have to look at the bright green pieces.  He wiped up the splat with paper towels, kissed me goodbye, and left for work.
A couple of minutes later, I heard feline retching sounds coming from the next room.  It was our young cat Sammy, and he was heaving on the carpet.
"Out, Sammy!" I yelled, shooing him towards the back door.  "Out, out!"
Helen and Gerard were playing on the back porch.   They paused and watched as I chased Sammy outside.
"Please make sure Sammy doesn't come back inside for a while," I said to them.  "He was about to throw up in the living room."
"Yeah, no wonder!" Helen remarked, wrinkling her nose.
"What do you mean?" I asked, though I wasn't so sure I wanted to know.
"Well," explained Gerard, "he did eat a whole grasshopper."
"He ate…a whole…grasshopper?"
"Yeah, I watched him.  He ate it all."  Gerard paused.  Then, to make sure I'd grasped the magnitude of Sammy's accomplishment, he repeated, "all of it."
I thought about the splat.  With the green pieces in it.  The green pieces that weren't grass.
Ew.
People have told me that when my kids are grown and gone, and I'm an old lady, I'll want a cat for companionship.  
Mark my word, friends.  That.  Will.  Never.  Happen.