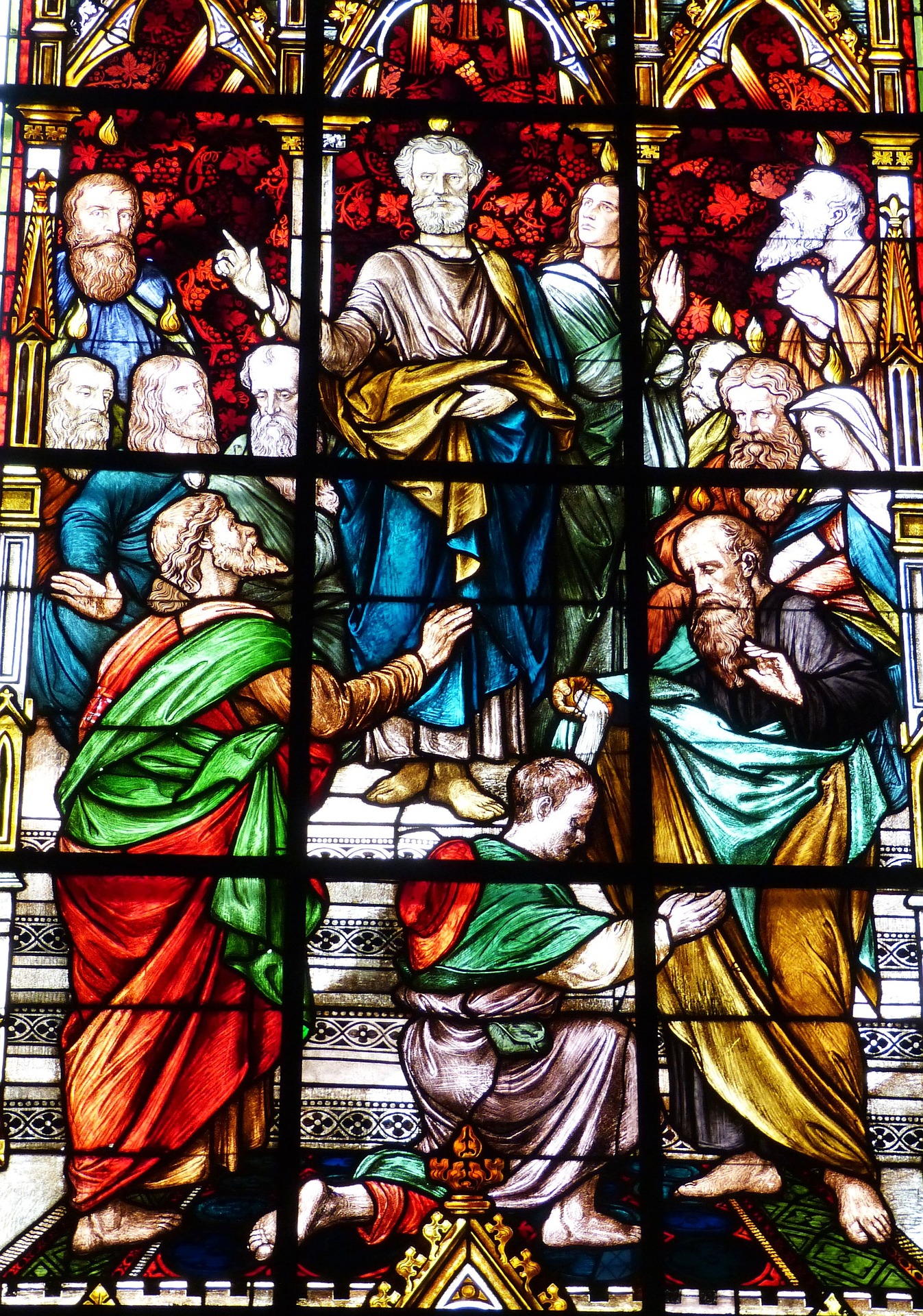 Except for things made of pixels, there's nothing that speaks to kids as effectively as does food.   That's why it's a good idea to celebrate liturgical feasts by serving symbolic dishes.
Inspired by Scripture passages, here are a few suggestions for foods to serve on the Feast of Pentecost:
"And there appeared to them tongues as of fire, distributed and resting on each one of them."
Fire up the charcoal grill and cook burgers over the flames.  Admittedly, this is a stretch, but your kids will "get it."  And isn't that the point?

Prepare

fire-roasted bell peppers.

Cook up some tongue:
Tongue, Family-Style
One 4-pound tongue, skinned and sliced into pieces 1/2″ thick
2 quarts water
1 teaspoon butter
1 onion,chopped
1 carrot, chopped
2 slices bacon, cut into very small pieces
1/2 clove garlic
1/2 teaspoon chopped parsley
1 1/2 teaspoons flour
1/4 teaspoon salt
1/8 teaspoon pepper
1/2 cup vinegar
1 cup beef broth
2 tablespoons powdered sugar
1 bay leaf
2 teaspoons pine nuts
2 teaspoons raisins
Place tongue is saucepan.  Add water, salt, and pepper and bring to a boil.  Cook, covered, about two hours.  In large skillet, combine butter, onion, carrot, bacon, garlic, and parsley.  Cook five minutes, stirring occasionally.  Add tongue and continue cooking until tongue is lightly browned. Sprinkle tongue with flour, and add salt and pepper.  Turn slices and add vinegar and broth.  Add sugar, bay leaf, pine nuts, and raisins, and simmer gently for 10 more minutes, or until tongue is savory and sauce is slightly thickened.  Place tongue on serving plate and pour sauce over.  Serves 8.
"Let him call for the elders of the church, and let them pray over him, anointing him with oil in the name of the Lord."
Serve chunks of bread with an olive oil dip.
"…and the Holy Spirit descended upon him in bodily form, as a dove, and a voice came from heaven, "Thou art my beloved Son; with thee I am well pleased."
Break out some Dove ice cream bars.
"But the fruit of the Spirit is love, joy, peace, patience, kindness, goodness, faithfulness, gentleness, self-control."      
Prepare a Nine Fruits Salad by combining fruits of your choice and dressing them with  a simple syrup.
For dessert, a birthday cake would be most appropriate on this birthday of the Church.  Hand the kids tubes of icing and have them decorate the cake with symbols of the Holy Spirit.