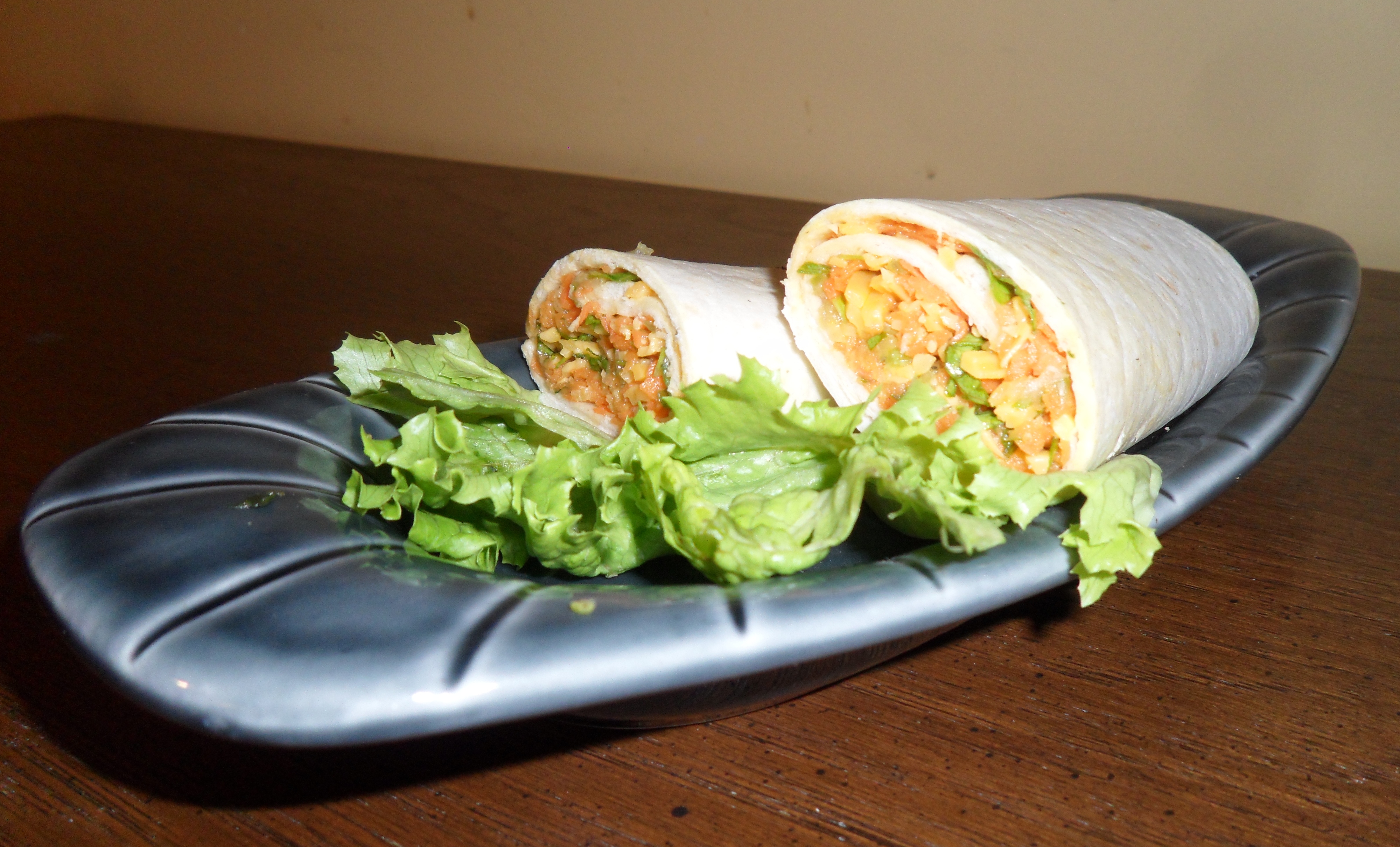 What's a three-letter term that's synonymous with "meatless midday meal"?  If your answer is "PBJ," then I know how you're feeling come lunchtime.  But I've got good news for you:  There are plenty of meatless alternatives to that tired old standby. 
Of course, you already knew that. You've seen the enticing pictures of vegetarian meals in magazines. You've scanned the ingredient lists and read the recipes.   You've tasted these meals in your mind, and they've tasted good.  Maybe you've even been inspired to stock up on foods with odd names ending in vowels.  Foods like quinoa, miso, tahini, and kasha.
But let's face it:  When lunchtime creeps up on a day that there's a little drawing of a fish on the calendar, odds are good that you aren't going to start pressing tofu.  Instead, you'll reach for a simple, speedy, and kid-friendly recipe that calls for ordinary ingredients.  A recipe like Scrap Wraps.
Scrap Wraps
So called because you may use any vegetables you have on hand.  The important thing is that you reduce the veggies to small dimensions so that the flavors blend.  It's also a good idea to pop the grating disc into the food processor in the evening and process leftover dinner vegetables while the kitchen is already in a state of postprandial disarray.  You'll then have the necessary ingredients for a lightning-quick prep of Scrap Wraps the following day, with a minimum of mess. Or, assemble the Scrap Wraps in the morning, wrap them tightly in plastic wrap, and refrigerate until the Angelus bell rings.
1 carrot, grated
1 stalk celery, grated
½ cup shredded cheddar cheese
1 C shredded lettuce
1 teaspoon Caesar salad dressing
2 or 3 flour tortillas
 Toss together vegetables and cheese until thoroughly mixed.  Add salad dressing and toss again.  Warm tortillas briefly so that they are pliable.  Divide mixture between tortillas.  Roll up the tortillas so that the filling stays put.  Serve. Scrap Wraps are especially good with a side of refried beans, either purchased or homemade.
Did you enjoy this post?  If so, you'll find even more to love in my ebook The Catholic Vegetarian Rocks Dinner for Twelve.  The ebook is yours for the taking.  Just click the image in the right-hand column of this page and download a copy.  It's free and it's fun!