I developed glossophobia, or a fear of public speaking, when I was in grade school.   As a seventh grader, I hid in the bathroom so that I wouldn't have to give my oral report of "Tom Sawyer."   (I enjoyed "Tom Sawyer" so much that I had been inspired to create an awesome report cover with a 3D representation of Tom's grandmother's house.  But talking about the book in front of the whole class was something I couldn't bring myself to do.)  Then, in eighth grade, I was assigned to represent my school in a regional spelling bee and ended up flubbing a word I knew how to spell because I was rattled by the live audience.  (The word I misspelled was "civilian,"  and it was given to me in the very first round of the bee.  Sheesh.) 
At the end of my senior year in high school, I was chosen valedictorian.  By that time, my glossophobia was so severe that, when speaking before a group of people, I would shake and tremble uncontrollably from the inside out and from tip to toe.  My head would move involuntarily from side to side in the manner of a bobblehead, and I would clench my teeth so hard that words literally got trapped inside my mouth.  It became obvious to my parents that I wouldn't be able to deliver the valedictory without medical intervention, so they asked our family doctor to prescribe me sedatives.  Either the "sedatives" were placebos or I was a really hard case because, when the time came for me to speak on graduation day, the pills I'd taken had absolutely no effect. Neither knowing nor caring whether my speech was intelligible to the audience, I blundered my way through it before hurrying off the stage in tears.
That was in 1977.
Thirty-three years later, having decided that the time had finally come to get over my glossophobia, I joined Toastmasters.  Through the Toastmasters program, I not only became comfortable with public speaking, but even came to enjoy it.  Eventually I began to feel as though I were being led to give talks about living the Catholic faith.  Not knowing whether it was an actual calling or my own wishful thinking, I turned to St. Therese for clarification. During one Sunday Mass at my church of St. Theresa of the Child Jesus, I boldly – even brazenly – asked St. Theresa to put a rose into my hand after Mass if I were meant to pursue a speaking ministry.  As I was leaving the church by a little-used side door, a boy wearing a St. Theresa School uniform handed me a postcard advertising Catholic Schools Week.   I thanked him, then took the card in hand and glanced at it.  This is what I saw: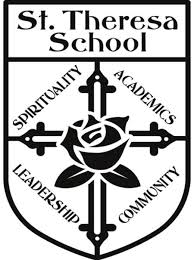 And that's why I speak.