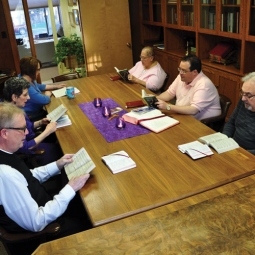 What has a quartet of beribboned and bulky volumes, customarily thumbed by devout religious and dedicated laity, got to do with ordinary Catholics?
Plenty, according to Singapore's Archbishop William Goh Seng Chye. 
Last year, Archbishop Goh urged the employees of all parishes, schools and other Catholic institutions to gather and pray the Liturgy of the Hours, a structured compilation of readings and prayers, in union with priests, deacons and religious communities all over the world.
As the official prayer of the Church, the Liturgy of the Hours, also known as the Divine Office, is almost as old as the Church itself. When prayed at designated times, the Liturgy of the Hours sanctifies each hour of the day and helps develop the habit of regular prayer.
"The primary conversion," explained the archbishop, "is a renewal of our personal relationship with the Lord," without which we cannot "proclaim the joy of the Gospel." 
Read more here.