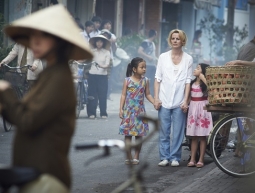 The year is 1989; the scene, an airport in Ho Chi Minh City.
Although Irishwoman Christina Noble (played by Irish comedienne Deirdre O'Kane) was never in Vietnam, she did visit it about 20 years earlier — in a dream. 
Christina believes that Vietnam is where she belongs, even though she knows so little of the country that she wouldn't be able to "find it on a map." She has no money — and no plan. 
Noble's fascinating story is told in Noble, a biopic that traces the life of its eponymous heroine from her childhood in Dublin to her heroic work among the orphans of war-torn Vietnam. 
Read more here.