Me:  Helen, it's time to get dressed.  We need to run down to the store.
Helen:  Okay.  Today I'm going to go for the gusto.
Me:  (???)
Later, a weird vision of randomness presents itself: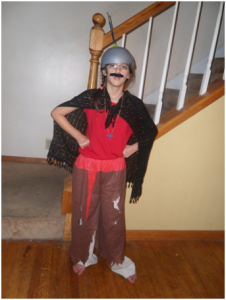 Helen:  Okay, I'm ready to go!
Me:  Honey, I can't take you to the grocery store looking like that!
Helen:  Why not?  I'm just being flamboyant.  You know, like Nanny.*
Me: But Helen, you'll be very conspicuous in that get-up.  And that's not good during school hours, because people will notice you and wonder why you aren't in school. They won't know that you're homeschooled.
Helen:  Oh, they'll just ask me something like, 'Are you homeschooled?' and I'll say, 'Yes.'  And they'll say, 'Well then, Missy, how do plants breathe?'  And I'll look them in the eye and say, 'Stomates.  It's stomates.'
*My grandmother, whom we called Nanny, was legendary in the Bronx's Little Italy for her outrageous sense of style.  But I don't think that she ever wore a plastic helmet with a paintbrush aerial stuck into a wad of Play-Doh.