I've known him all my life.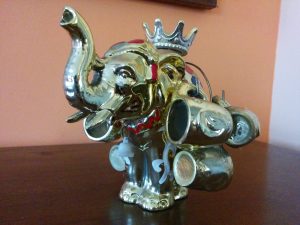 Let's call him Tawdry.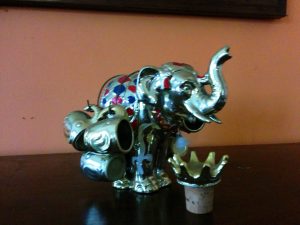 When I was a child, Tawdry lived in a china cabinet in the living room.  But whenever there was a holiday or other occasion, he would be placed on the dining room table along with the Rosolio and Galliano.
Tawdry carried on his back a load of liqueur glasses that boasted an elephant head design. But the glasses were never used.  Maybe would-be imbibers were put off by the idea of imbibing from an elephant head.  Or maybe they just didn't like to sip their liqueurs from glasses gilded in a lead-based substance.
Whatever.
All I know is that, from my earliest days, Tawdry represented good times with my family.  Birthdays, name days, holidays, feste dei santi.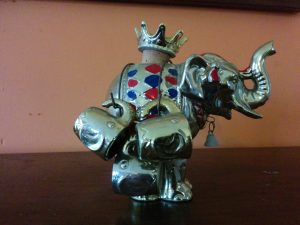 Tawdry lives in my home now.  He is retired, and spends his days – yes, even holidays – in a wood cabinet, in the company of similarly fragile and charmingly off-beat tableware.  Like the velvet drum ice bucket  with gold ice tongs.  
But that's a picture for another day.