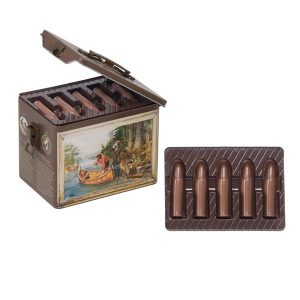 …but all chocolate makes good ammunition.
Chocolate is said to be a formidable ally in our battles against poor cardiovascular health, high cholesterol, , poor cognitive function, and even some forms of cancer. 
Is this why we women reach for the Hershey's every chance we get?  Heck, no.  We eat chocolate because it tastes good, and it makes us happy. 
Of course, men like chocolate, too. That's why each of the groomsmen in my daughter's wedding party received an "ammo box" filled with chocolate.
I want one of my own.