When, as newlyweds, Mike and I moved to Pennsylvania from New York City, it took me a while to adjust.  The first night in our new home, I was actually kept awake by the cacophony of cricket song outside my window.  The sirens, shrieks, and assorted other city sounds to which I was accustomed had been my nighttime lullaby for 23 years, and I missed them.
Something else that took getting used to in my new neighborhood was the omnipresence of ticks in the springtime.  The critters were everywhere.  We found them climbing the sofa and crawling on the floor.  I plucked them from my kids' skin and scalps.  They'd lie in wait at the tips of tall grasses and, like Pooh's "jagulars," would even drop on you from the trees.
Once a tick was embedded in skin, removing it was a tough job.  I sought out advice from my neighbor, a rugged man who had done a lot of hunting in tick-infested areas.  His technique of tick removal involved lighting a cigarette and holding the glowing tip to the tick.  He assured me that this rather brutal method always worked, but would occasionally induce the tick to regurgitate into its host, causing infection.
Oh.
I went back to my imperfect  method of pulling at the tick with tweezers until it loosened its grip.  This method was effective most of the time, although we did have two incidents in which the mouthparts of a recalcitrant tick remained embedded after the rest of its body had been – ugh – tweezed away. 
Then one day Mike went to a conference and met an inventor who gave him a tick-removal device he had designed.  At the first tick-lish opportunity, I tried out the device.  It worked like a dream.  
Here's a picture of the sweet little gizmo: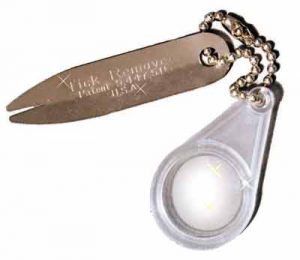 It's called the "Pro-Tick Remedy."  Dull name, fantastic gadget. 
Now that I've got a Pro-Tick Remedy, springtime is fun again.